Someone suggested I should make a big tentacled Celtic thing for cross stitch. I couldn't agree more. I've always had a thing for tentacles. Looking back, I realize I've inked a number of octopi and but have only one small cross stitch with that theme (yet!). Bring on the cephalopods!
My most recent octo drawing.
Quick sketch - important to get that caffeine.


From the Celtic Beasties - Halloween of Knot chart
Mostly Off Topic: So, has anyone else seen the #6 Dungeon expansion pack for the Munchkin card game? There is one called the Dungeon of Manga Wrangling, where monsters with tentacles get an extra +5 against females. We do get extra treasure, though, when we kick their butts. :-)
Edited to add: Totally forgot about my very first Ink Circles pattern - Sea Stars. Big ol' octopus front and center...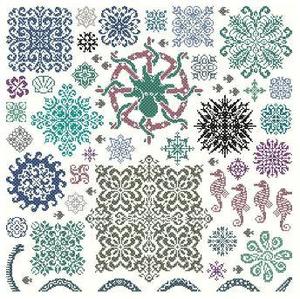 And it wasn't much later that I made "Octopus's Garden"...
Apparently I have more of an octopus thing going on than I had originally realized! ;-)